Join us Sunday evenings 5:00-7:00 pm
Season 2 of The Chosen & Conversation
We will gather Sunday to start watching our way through season two of The Chosen.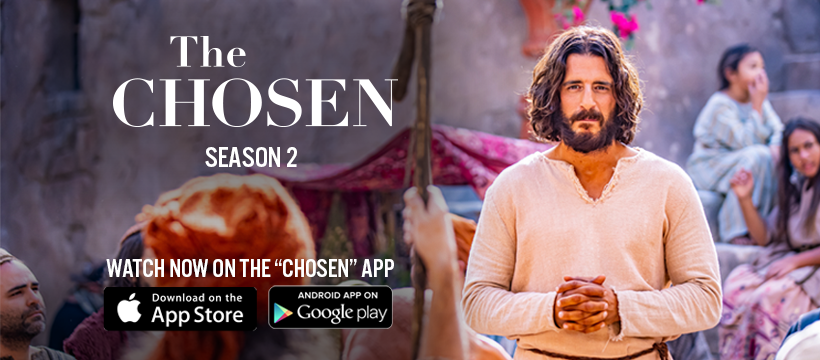 August 29: Season 2 — episodes 1&2
September 5 — Labor Day weekend, no Table Gathering
September 12: Season 2 — episodes 3&4
September 19: Season 2 — episodes 5&6
September 26: Season 2 — episodes 7&8
This week (August 29) we will gather at Greg & Kari's place in Savage. You may always double-check Facebook, Twitter for up-to-the-minute location information — or here on our website for upcoming weeks.
This week we are meeting at
5810 W 131st Street Cir
Savage, MN 55378
---
Coming up Next
Starting in October, we will embark on a journey of reading through the Bible together in a year. There will be daily readings in between gatherings (starting October 7) and then we will gather to talk about what we noticed and wondered when we gather on Sundays.
We will be using the One-Year Chronological Plan, "Reading God's Story" (link here)
Created by Dr. George Guthrie, this plan takes the material of the Bible and organizes it to flow in chronological order.

Since exact dating of some materials or events is not possible, the chronology simply represents an attempt to give you the reader the general flow and development of the Bible's grand story.

Some passages are placed according to topic (e.g., John 1:1-3 in Week 1, Day 2; and many of the psalms).

There are six readings for each week to give you space for catching up when needed.
---
Weekly Rhythms
At The Table, we have practice specific weekly rhythms — with some flexibility:
First Sunday: Communion with God (gathering together)
Second Sunday: Communion with God (gathering together)
Third Sunday: Community with One Another (gathering together)
Fourth Sunday: Missional Living (serving in our own settings)
Fifth Sunday: Special Gathering (worship night or another gathering)